Services

Privately Held Businesses & Enterprises
Companies seeking to transition ownership or wealth are represented by Schwabe.
Overview
We are a multi-disciplinary team of attorneys focused on helping our clients capture, maximize, protect, and transfer the wealth that they have built in their businesses and preserve their business and community legacy. We do so by delivering a full range of strategic and coordinated business succession, transition planning, and estate planning legal advice. Our group intimately knows our clients' industry and includes highly trained professionals with extensive experience in all aspects of business exit and legacy planning. We help our clients seek the highest and best use of their valuable assets—for themselves, their employees, future generations of their families, the beneficiaries of their philanthropic interest, or in pursuit of their next entrepreneurial venture.
"It's not personal; it's business" doesn't apply.
We understand that it is personal. Our attorneys help our clients navigate and avoid risks that might threaten a privately held or family-owned business or enterprise, assess transition or change readiness, review and evaluate alternatives, and develop custom-tailored exit or legacy planning strategies or plans that align personal goals with business life cycles and opportunities. We work in conjunction with other succession, family, and exit-planning professionals to serve as trusted legal advisors to our clients, guiding them through the sometimes bewildering business transformation process. We focus on the needs of our clients, including their long-term goals.
Our interdisciplinary group is dedicated to providing outstanding client service and drawing on innovative practices to help privately held businesses and their current or future owners. We guide clients at every step of the way to navigate the spectrum of business transition alternatives and issues, including:
Business contingency or continuity planning, and designing and implementing strategies to reduce legal and business risks, preserve generational wealth, and improve business value and transferability
Family or management succession issues, including family and board governance, family offices, integrating non-family members into the company structure, intra- and intergenerational rivalries among family members, breaches of fiduciary duties, determining lines of authority, and evaluating the current personnel, business, and market landscape
Sale to a third party
Sale or transition to management or employees, including strategies to develop and retain the next generation of leadership
Transactions with co-owners, partners, or family members, including buy-sell or shareholders' agreements, and if need be, reducing friction, conflict resolution, or litigation
Refinancings, recapitalizations, and liquidity transactions
Executive compensation, employee stock ownership plans (ESOPs), employee incentives and retention, and other alignment alternatives
Value maximization of a business, including legal advice on corporate, financial, intellectual property, and risk-management planning and troubleshooting
Maintaining asset value through estate, real estate, intellectual property, employee, and tax planning
Assisting in the design, establishment, and operation of family offices
Retirement, legacy planning, estate planning, and developing and implementing tax-minimization strategies
Assisting your business
every step of the way.
Our lawyers are well-versed in helping our Real Estate & Construction and Consumer Products, Manufacturing & Retail clients navigate each step of their companies' lifecycle — from the initial business idea to transitioning leadership.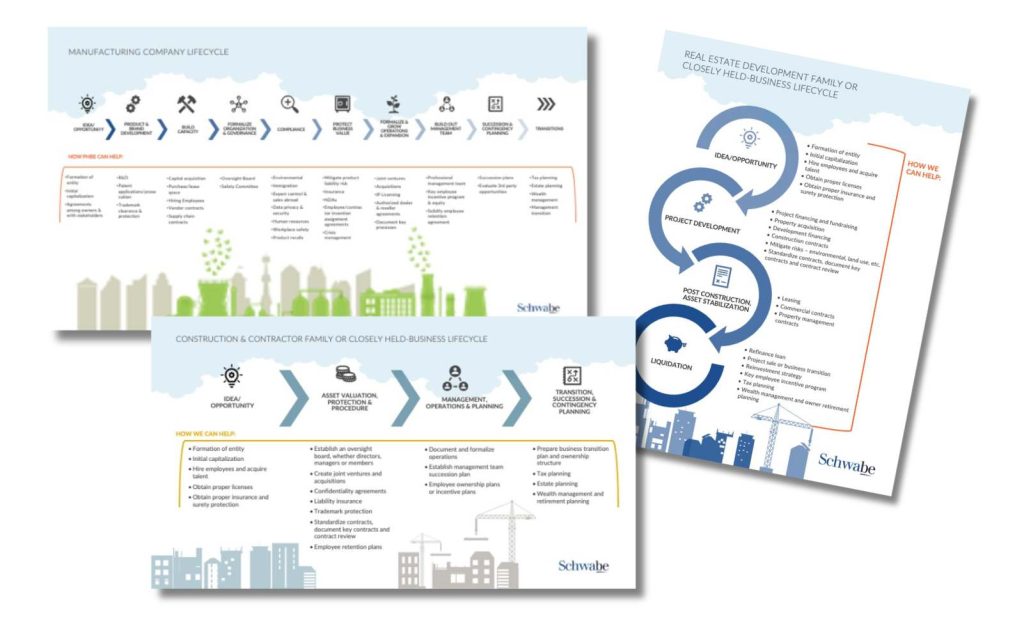 Experience
Developed and implemented business transition plans for family-owned and closely held businesses in the construction, manufacturing, professional services, healthcare, and other industries.
Represented a privately held company in stock redemption from a founder/majority shareholder and the transition of ownership to key management.
Implemented a stock redemption plan for multi-generational, family-owned manufacturing company.
Developed an employee stock plan to allow a closely held construction company to expand ownership to key employees.
Handled contested division of ownership of family business interests.
Advised family-owned companies with development of professional board of directors.
Worked with successful business owner to establish basic estate planning immediately while creating and implementing a succession plan that diversified his estate while providing for the ongoing success of his business.
Serves as general corporate counsel for Leupold & Stevens, a fifth generation family-owned business that is the leader in hunting and recreational optics.