Industries

Consumer Products, Manufacturing & Retail
Prominent consumer products, manufacturing, and retail companies are represented by Schwabe.
Consumer Products, Manufacturing & Retail
Overview
A trusted firm in the consumer products, manufacturing and retail industries, Schwabe's 40+ industry-focused lawyers offer personal attention and strategic legal guidance to a broad range of businesses, from start-ups to Fortune 500 companies.
Proactive and engaged counsel
In an increasingly competitive marketplace, industry frontrunners look to Schwabe for knowledgeable advice and creative and practical legal solutions. Being represented by Schwabe means working with lawyers committed to learning the ins and outs of the business and staying up to date on industry trends. We help clients avoid issues before they take their business off course, allowing them to focus on what is most important. If litigation arises, Schwabe's experienced trial lawyers can guide clients through the process, help protect their business, and further their objectives.
A collaborative approach to client service
No single lawyer can address every manufacturer or retailer's need. Our industry lawyers work together, so when problems or opportunities arise, we can approach them as a team to assist our clients as efficiently and proactively as possible.
We represent consumer products, manufacturing, and retail companies in a variety of industry sectors, including:
Apparel and footwear
Equipment and machinery
Food and beverage
Outdoor and athletic products
What our clients say
Patrick Criteser, President & CEO of Tillamook
"Schwabe does a good job of understanding our real-world business needs and using legal as well as non-legal skills to solve business problems, rather than over-lawyering. They are able to leverage their experience with other clients with similar issues and offer a useful perspective on different options and how things could shake out. You can't always get that internally. They have people I trust."
Daniel C. Occhipinti, Chief Legal & Administrative Officer, Pacific Seafood Group
Assisting your business
every step of the way.
Our lawyers are well-versed in helping our Consumer Products, Manufacturing & Retail clients navigate each step of their companies' lifecycle — from the initial business idea to transitioning leadership.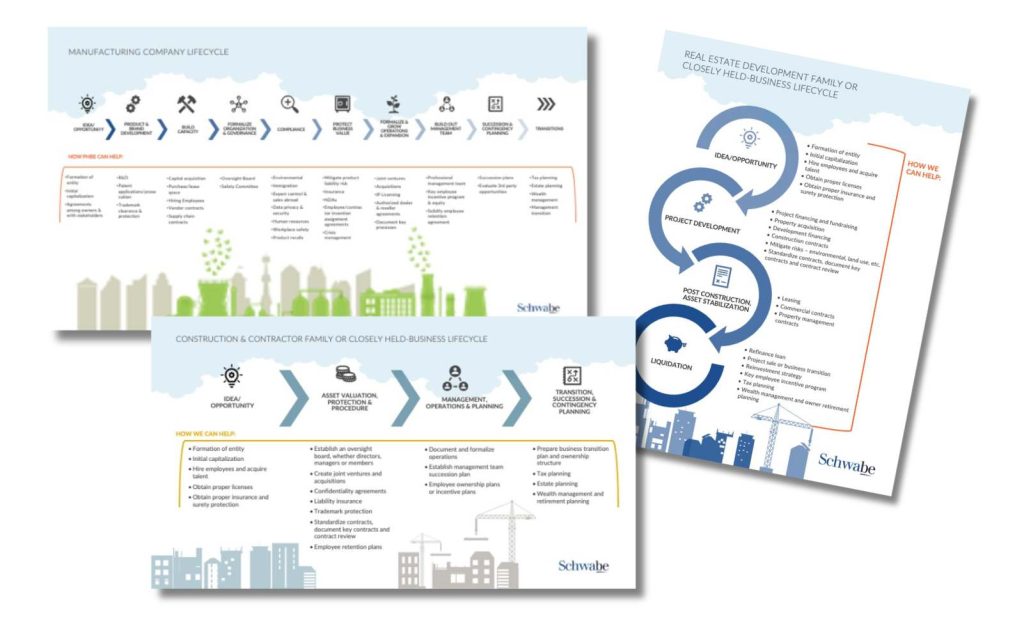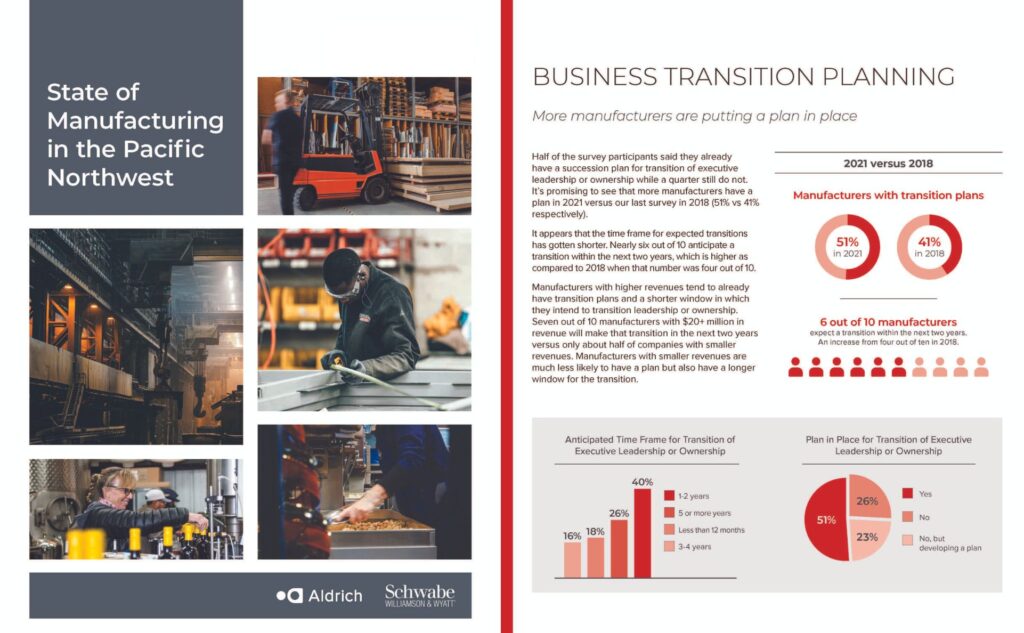 The State of Manufacturing in the Pacific Northwest
Together with Aldrich CPAs + Advisors and the Business Journal, we present the results of our second survey on the State of Manufacturing in the Pacific Northwest.
Experience
Won summary judgment dismissal of a claim against a clothing retailer by an independent contractor who was injured while working in the retailer's store.
Successfully defended a leading Western retailer in product liability cases involving nutritional supplements and consumer goods litigation, and succeeded in persuading the manufacturer to resolve cases.
Prevailed on class representatives' personal injury claims against an industrial tool manufacturer.
Guided national manufacturer through a product recall and subsequently litigated and obtained substantial damages recovery for client from supplier.
Represented an outdoor sportwear company in litigation against a competitor for infringement of two of their utility patents and one design patent.
Represented medical device company in the acquisition of a utility equipment manufacturer of air compressors, vacuums, water safety valves, and other equipment.
Partnered with a rebar manufacturer to assist with its purchase of a facility and develop its ownership transition plan.
Advised a defense manufacturing company on employment issues including arbitration agreements, employee handbooks, manager training, and anti-harassment.
Defended one of the world's largest privately owned food manufacturers in lawsuit by a former employee alleging employment discrimination and violations of the federal and state Medical Leave.
Handled domestic and international trademark clearance, enforcement and portfolio management for a knife company. Provide counsel on anti-counterfeiting, product endorsement and sponsorship agreements, and domestic and international distribution agreements.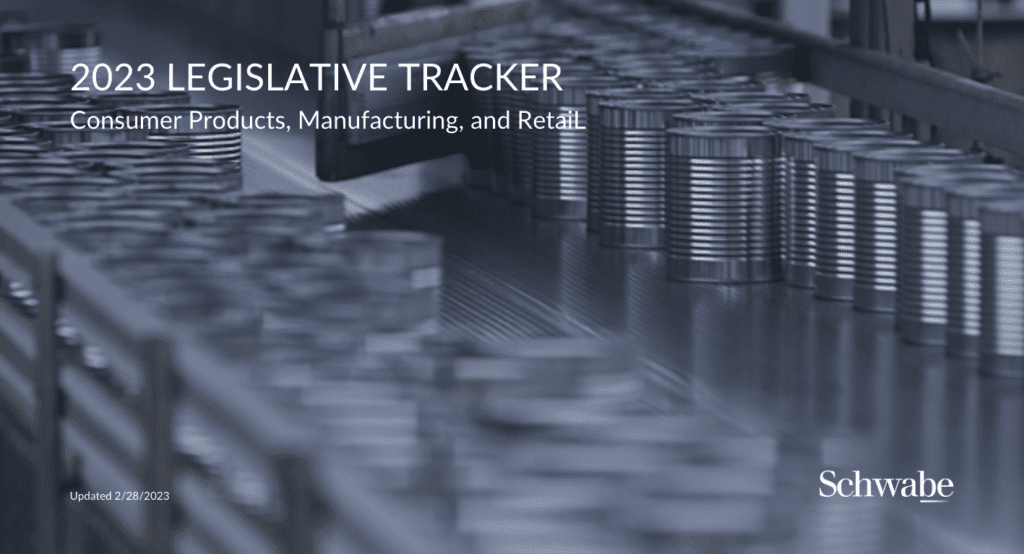 2023 Legislation to Watch
A resource for the Pacific Northwest Consumer Product, Manufacturing, and Retail industry to stay up-to-date on legislation that may impact your business.