Industries

Food & Beverage
Leading national and international  food and beverage companies are represented by Schwabe.
Overview
Schwabe provides strategic and creative solutions for food and beverage processors, distributors and retailers.
Service tailored to complex and evolving legal needs
Food and beverage companies face a range of obstacles, from ever-shifting regulations and consumer demand, to managing the consequences of changes in the economy and developing technology. Supply-chain complexities, expansion into global markets, and low product margins further complicate matters. Even slight changes in the weather can have major implications for business success. In this highly competitive and evolving industry, being represented by Schwabe means getting guidance tailored to the particular needs and the unique forces and demands at play.
A well-rounded law firm for food and beverage companies
Our team provides counsel in key areas of law including developing corporate strategies, brand and asset protection, compliance, real estate, leasing, and employment.
Our in-depth industry knowledge helps us see the big picture and understand how legal issues impact our clients. We have a breadth of industry knowledge and experience that helps us serve complex legal needs. Schwabe's food and beverage team provides advice and support tailored to our clients' businesses aimed at helping them succeed in this industry.
What our clients say
"Schwabe does a good job of understanding our real-world business needs and using legal as well as non-legal skills to solve business problems, rather than over-lawyering. They are able to leverage their experience with other clients with similar issues and offer a useful perspective on different options and how things could shake out. You can't always get that internally. They have people I trust."
Daniel C. Occhipinti, Chief Legal & Administrative Officer, Pacific Seafood Group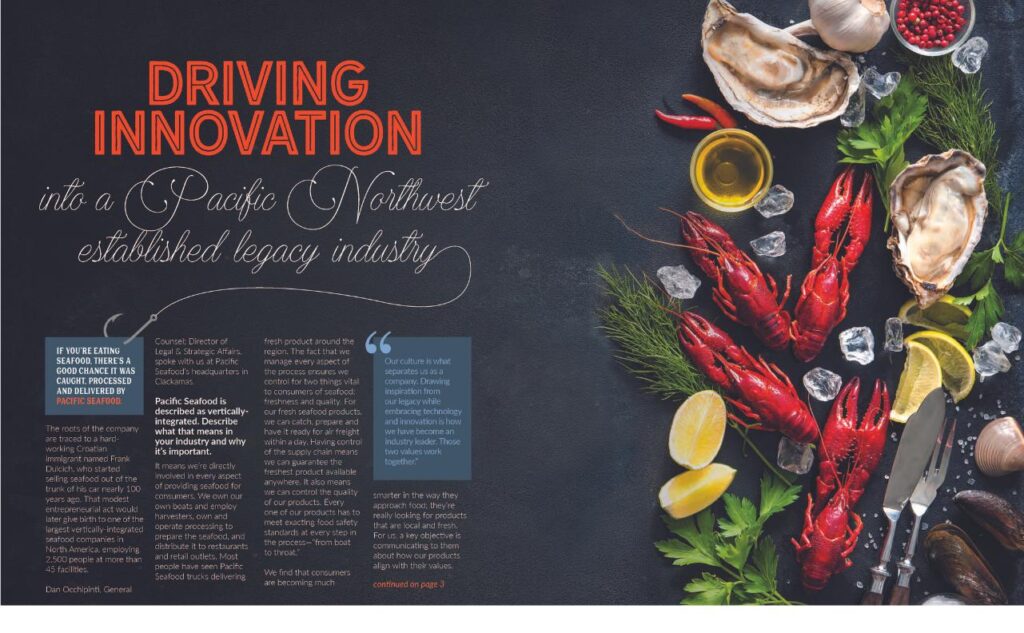 A PNW Legacy Company
If you're eating seafood, there's a good chance it was caught, processed, and delivered by Pacific Seafood.
Experience
Represented a large food-service company in connection with the review of website content for proper trademark usage and proper marketing claims.
Represented a Portland-area food manufacturer in connection with its lease of 400,000 square feet of industrial space and the purchase of its headquarters building.
Represented Henningsen Cold Storage in their sale to Lineage Logistics Holdings, LLC. Schwabe negotiated multiple definitive merger agreements and managed multiple due diligence requests in parallel with different bidders.
Handled a line of credit increase for a food distribution company in conjunction with the buy-out of the last individual owners so that it became a fully employee-owned company.
Represented the sellers of a food distribution company to a publicly traded company in a stock purchase transaction.
Represented a growing restaurant chain in lease negotiations for new locations.
Defended one of the world's largest privately owned food manufacturers in lawsuit by a former employee alleging employment discrimination and violations of the federal and state Medical Leave.
Represented a food processing company against the industry cooperative for breach of contracts and misappropriating trade secrets.