Industries

Apparel, Footwear & Outdoor Products
Innovators in the outdoor and athletic industry are represented by Schwabe.
Overview
Schwabe's apparel, footwear, and outdoor products industry lawyers share the same ethos as our clients and are dedicated to supporting their growth.
A climate for innovation
The rugged and rainy Pacific Northwest is a hotbed of innovation for the apparel, footwear, and outdoor products industry. Being represented by Schwabe means working with lawyers who are passionate about this vital industry and its value to our region. We work and play in the great outdoors and pride ourselves on remaining up-to-date with industry trends. From idea to product creation to distribution, branding, and marketing, we help manufacturers and retailers protect innovative ideas, products, and the bottom line.
Deep experience in a dynamic industry
Our lawyers are well versed in defending products and brands from intellectual property theft, counterfeiting, and piracy; ensuring compliance with product-safety regulations; negotiating contracts with suppliers and vendors; and developing and protecting talent acquisition.
Global connections
We're an active member in a global network of legal colleagues and industry experts who can assist clients in various locations around the world.
What our clients say
"The entire Schwabe team are invaluable, creative innovation partners and strategic advisors. They have absolutely allowed us to maximize our IP opportunities and are there every step of the way helping us optimize the overall management of our innovation platforms."
Columbia Sportswear
Experience
Successfully defended a prominent sportswear company in a patent infringement matter that resulted in a precedential setting decision from the USPTO.

Served as Strategic IP Counsel to a tool and equipment manufacturer identifying valuable new ideas, development and protection of new products, and structuring licensing arrangements and strategic partnerships.

Successfully defended a sports optics company in a patent infringement matter involving six patents.

Represented an outdoor wear company in drafting and negotiating a multi-year brand partnership with champion NASCAR driver.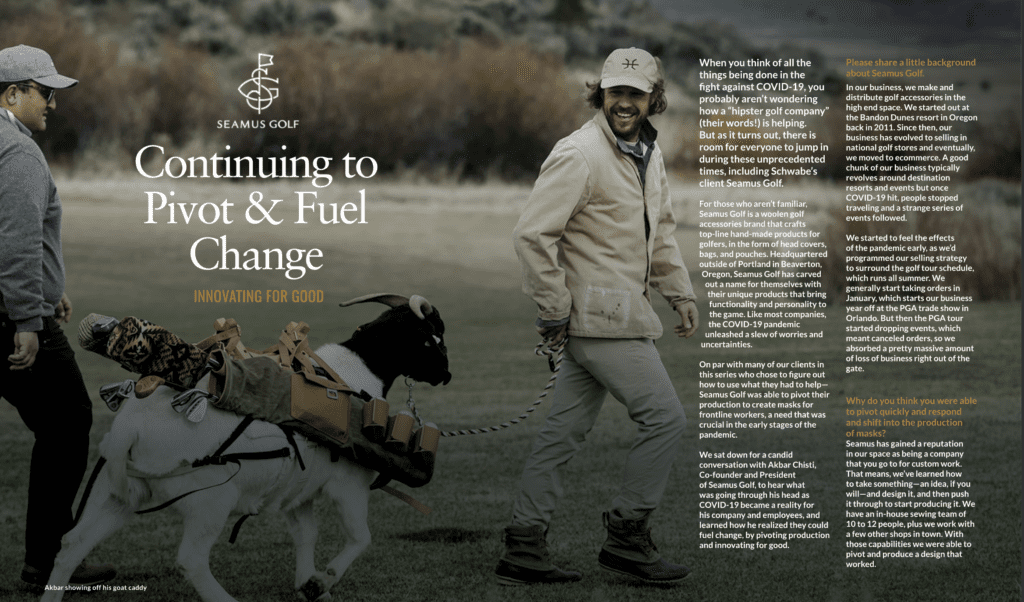 On Par with Excellence
Pivoting from handcrafted golf accessories to personal protective equipment, Schwabe's client Seamus Golf is on par with excellence.